Since 2004, FÖS has awarded the Adam Smith Prize to outstanding personalities who have made a scientific, political or journalistic contribution to the development of an ecologically and socially sustainable economy.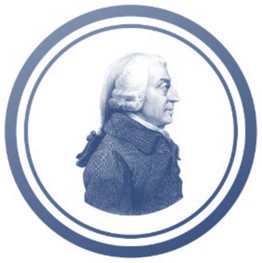 No one recognized as early and as clearly as the Scottish economist and moral philosopher Adam Smith that self-interest and the common good don't need to be mutually exclusive and must not be allowed to be mutually exclusive in the future. "People will do anything for money, even the good" - this saying may not have been made by Adam Smith, but the original idea can be traced back to him. So the motto of the Adam Smith Prize is: Putting self-interest at the service of the common good, especially by requiring prices to tell the economic, environmental, and social truth. In our perspective, Adam Smith foresaw the necessary means to achieve a market-based, ecologic economy.
As a pioneer of a decent market economy and restrained self-interest, Adam Smith is more relevant than ever. What does Adam Smith stand for? 225 years after the death of the Scottish pioneer, the German broadcaster WDR asked this question. FÖS Honorary Chairman Dr. Anselm Görres says: Adam Smith was a humane philosopher of enlightened self-interest and not a prophet of brutal egoism. A manuscript in German is available online.
"Although there were no environmental protection regulations in Adam Smith's time, we may assume that Adam Smith would also have regarded restrictions on market-economy freedom as necessary and would have defended them when it came to avoiding imminent environmental damage. All the more we may assume that he would have advocated market-based instruments of environmental protection such as the environmental tax reform."
(Prof. Dr. Hans C. Binswanger, first laureate)
"I am particularly pleased about the Adam Smith Prize because it honours an idea that I believe can provide the answer to some of the most important questions of our time. The idea is the principle of true costs: that the actual, and therefore also social and ecological, costs of the production and consumption of goods are reflected in their prices."
(Prof. Dr. Horst Köhler, former Federal President of Germany, in his acceptance speech for the Adam Smith Prize 2014)
The Laureates at a Glance